Product Description
DYNA-PRIME™ N-23 Water Chasing® Primer is a brushable/rollable grade of 100% solids polyurethane that has been that has been specially formulated as a high performance damp concrete primer. DYNA-PRIME™ N-23 Water Chasing™ Primer penetrates deeply into wet porous substrates where it reacts chemically with the water, providing a vapor barrier. DYNA-PRIME N-23 seals damp concrete to allow ease of topcoat application. DYNA-PRIME™ N-23 Water Chasing™ Primer has zero VOC's and is a two-component primer.
DYNA-PRIME™ N-23 Water Chasing® Primer has a 1 to 1 mix ratio of Iso to Resin. DYNA-PRIME™ N-23 is available in various sizes: 2 Quart Kits, 2 Gallon Kits; 10 Gallon Kits, and Drum Sets. (Call +1 (413) 284-0000 or Contact Us to Order Drum Sets).
Recommended Uses:
Use wherever water saturation is present in a porous substrate.
Use for waterproofing applications to stop and prevent seepage of water through the substrate.
Use as a positive chemical bonding primer to reactive chemistries (epoxy, polyurethane, polyureas).
Recommended Uses (Examples)
Basins & Reservoirs
Boat Floor Coating
Bridge Coatings
Concrete Decks
Concrete Restoration
Dock Coating
Equipment Wash-Down Areas
Foundation Coatings
Garage Floor Coating
Laboratory Floors
Man Hole Restoration
Marine Bridge and Deck
Marine Wood Coating
Parking Structure Coatings
Pool Deck Coating
Pool Coating
Terrace Floors
Tractor Trailer Floors
Truck Freight Ramps
Tunnels
Water Runoff/Overflow Areas
Water Treatment Plant Treatment Pond Coatings
Water Treatment Sluices & Estuaries
Water Park Features and Repairs
Water Parks and Theme Parks
DYNA-PRIME™ N-23 Water Chasing® Primer penetrates the surface of concrete, brick and other surfaces (forming a thick vapor barrier) to permanently seal out moisture.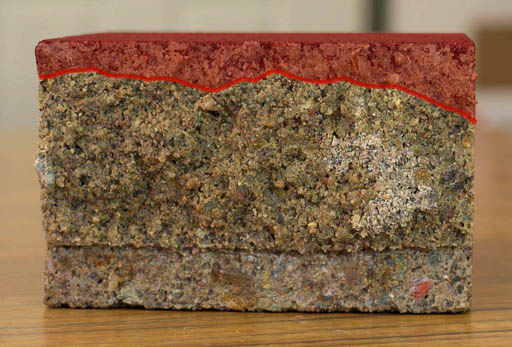 Application Equipment Required:
1/4" to 3/8" poly foam rollers (Available Here) or woven lint free rollers; roller frame
Bristle or foam brushes, as desired
Paint tray with disposable paint tray liners
Measuring and mixing containers
Stirring equipment and stirring sticks
Acetone for clean up
Additional Information:
An aliphatic top coat is recommended to enhance exterior performance.
Be Sure to Read and Understand All Instructions Prior to Starting Application.